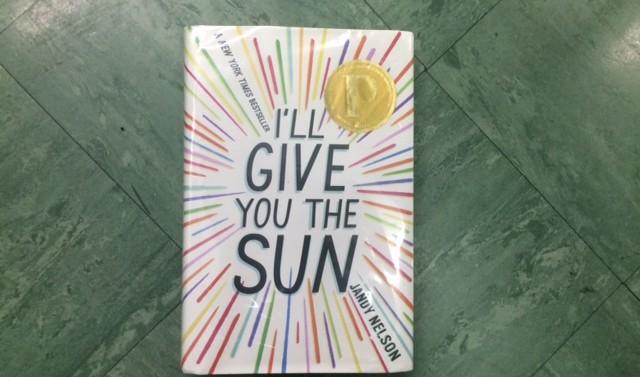 by Helena Yeung, staff reporter
"I want to grab my brother's hand and run back through time, losing years like coats falling from our shoulders."
I'll Give You the Sun is a heart-taking book by Jandy Nelson that brings dynamic between two twins that's touched upon family, art, fate, and love. The story is told by twins, Noah and Jude, who deal with events in their lives that break them apart.
Although the narration between Noah and Jude is always changing in between chapters, Noah narrates the story when they're 13 and Jude narrates the story when they're 16. The perspectives of the twins unlock their emotions towards losing their family, falling in love, and putting their heart into art. The story allows the reader to connect with each twin through their emotions and passions while being intrigued towards the story.
The book plots mainly on the twin's separation and their fractured lives. Once incredibly close, now broken apart. The story brings the reader through sadness, heartbreak, joy, and acceptance in an artistic way. Mainly, it slowly brings the twins back together through the timelines of their own separate stories.
Nelson also displays the story through quotes and flashes of drawings. Noah paints pictures with his mind, while Jude remembers sayings from her still-around grandma Sweetwine as she goes on with her life every day. It brings the reader a closer connection with who the twins are. "What is bad for the heart is good for art. The terrible irony of our lives as artists."
I'll Give You the Sun is an amazing book to read for someone who's trying to fining a teen book that's romantic, touching, suspenseful, and meaningful. It not only touches upon the cliche elements of romance or school situations in young adult books, but also about the true meaning of family. The book is also inspiring of art, which the twins used to find themselves and each other throughout the book as well.
The book is given an overall average of four stars on Goodreads, four and a half stars on the Barnes & Nobles site, and an overall five stars on Common Sense Media. Nelson also won the 2015 Michael L. Printz Award for "I'll Give You the Sun" for excellence in literature written for young adults.