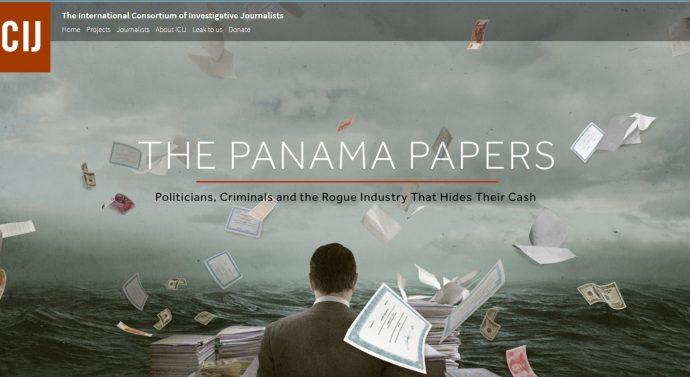 by William Torres, feature editor  
Panama Papers explained
The Panama Papers are a collection of information on corruption of world leaders and important political figures all over the world. Over 2.6 terabytes of documents connected these figures around the world to these offshore accounts, which aided them to avoid taxes. The people who were involved included 12 current and former world leaders, such as the President of Argentina, The former President of Sudan, and the former Prime minister of Georgia.
The Panama Papers are documents which were leaked from a Panama based law firm named, Mossack Fonseca. The documents can be traced back to 1977, when the firm was first formed.
On Sunday, the International Consortium of International Journalists (ICIJ) published the documents, which were found to have connections with the Russian President, Vladimir Putin.
The released information is called the 'Panama Papers' because they originated from the Panamanian law firm, Mossack Fonseca, which is based in Panama. For years there had been accusations of this act of corruption but there was never proof; this is only one law firm out of many that kept information like this.
Multiple names of high ranking officials were on these leaked documents, proving fatal to many, such as David Cameron and Sigmundur Gunnlaugsson who were the first to face the consequences of their actions. Gunnlaugsson had chose to lie when he was interviewed for the first time under false pretences, eventually coming out with the truth of what had really transpired.
The people who had chosen to put some of their funds overseas felt that they shouldn't have to pay taxes and as a result, they invested their money into these companies so they could hide the full amount they had.
The most popular tax havens were The British Virgin Islands and Panama itself, even though these offshore "companies" are only active for a short amount of time, to potentially draw away suspicion.
"Even though this doesn't directly affect me it's still a bit worrying to know that all these important people are evading these taxes," junior Erika Donis said.
The resignation of the Prime Minister of Iceland as a result of exposed corruption
The Prime Minister of Iceland, Sigmundur Gunnlaugsson, resigned because the corruption was revealed and his wife's offshore company was discovered. The same day the documents were leaked, Gunnlaugsson was asked in an interview what he had to say about the suspected company he had,which led him to walk out of the interview.
Approximately 10,000 demonstrators were protesting and calling for him to resign on Monday, urging him to tell the truth. Gunnlaugsson is one of the many people who was exposed on Sunday by the ICIJ, which is now the only reason he is choosing to resign.
Gunnlaugsson will need the votes of both the right-wing Independence party and the president, Ólaf Ragnar Grímson, before he can officially resign and leave the office.
Gunnlaugsson had several offshore companies during the financial crisis of 2008, and started insisting that he broke no laws and that he never held any type of money overseas which turned out to be false.   
The former Prime Minister will continue to hold his place as the leader of the progressive party of Iceland. The people demanded for him to completely resign but he will continue to hold a place of power.
The only reason that Gunnlaugsson is resigning is because of the massive protesting that has taken place in the past two days, and because he had been caught.     
A day after the Panama Papers were leaked, China decided to ban any type of discussion about it on major websites. Their decision for this is most likely because of the relation to the president, such as his brother in law, Deng Jiagui, and the daughter of the former Chinese Premier Li Peng.  
"It's honestly appalling to me that they would censor this to the public, because they [the people] deserve to know what the people in their government are doing," senior Daniel Kricheli said.
Fifa's ethics judge resigns after being named in the Panama Papers
FIFA had been suspected of corruption in the past because of events that transpired in 2015. Ethics Judge, Juan Pedro Damiani, resigned on Wednesday, April 6th 2016. Damiani is one of many who was involved in the corruption scandal where they had been committing acts of bribery, money laundering and fraud. The investigation had started in 2010 when the United States had suspicions of what they were doing, eventually deciding to take action. They revealed everything on December 4th, 2015.  
In relation to this, Lionel Messi was also linked to these Papers from this company that he had a 50% stake in called Mega Star. He will also have to show up in court later this year on charges of tax evasion, along with his father. They had both been involved in the act of tax evasion since 2014. If he gets convicted, he could face up to two years in prison.
Messi claimed for this to be slanderous and that is deciding if he is going to sue them or not. His team is choosing to stand by him until this goes away. They promised to help Messi with any financial or legal fees that he may face in the future, if he decides to pursue any type of legal action.
There are many more to come and a lot more people who will be revealed sooner or later. The sponsorships that Messi has accumulated over the years have yet to say anything on the case, until more information regarding him gets released.  
Adidas is aware of the ongoing predicament that he's in right now, but are choosing to overlook this possibly with the fact that Messi plays a big role in their soccer cleats line, competing with Nike and Under Armour. The documents itself contain more than 20 soccer players, in professional teams, such as Barcelona, Manchester United, and Real Madrid.
David Cameron's Involvement  
Some people are calling for David Cameron, the Prime Minister of the United Kingdom, to resign after being involved in tax evasion. In January 2010, Cameron and his wife had sold their stock in an offshore tax haven for about £30,000, because he had the intention of becoming the Prime Minister.
Cameron had claimed that he had no involvement in any of the recent uncoverings that the Papers had provided to the public. Thousands of people are now protesting for his resignation with a petition reaching over 150,000 signatures, which could be inspired by Gunnlaugsson's resignation. Many expected Cameron to follow suit.
Iceland's Prime Minister resigned on Tuesday. Many are comparing both of them and wondering why Cameron hasn't resigned either. Edward Snowden is encouraging Britons to protest about Cameron just as Iceland did with their Prime Minister.
Before Cameron had gone into office, he had sold every piece of stock his father had given to him overseas. Cameron personally did not buy the stock in that company. He claimed that he had let his father take care of his finances and that this was in the past.
Cameron said in an interview with the Guardian that he personally did not own any stocks, that he only received his salary from being the Prime Minister and that's all. Quite similarly to the Prime Minister of Iceland, he denied any claim that he himself had any ties back to those offshore accounts. Cameron himself is not responsible for the actions that his father may have done, even if he did benefit slightly from the stock. It wasn't really his choice until his father had passed it down to him. While he claims that he currently has no offshore anything, he never said anything about his family members.
Edward Snowden has played a huge role in this entire scandal, by basically revealing it just as it was coming out. Snowden is quite the influential person ever since he decided to unveil the true intentions of these corrupt officials.
The leaking of this information could be the start of a domino effect as one by one, the names are released. Corruption has gone on for too long and no one has been able to put an end to this, as it is a monopoly. The people with all the power have control over a majority of things, being able to influence them. The 'Panama Papers' are starting to have a huge influence over the world as of now, with the Iceland's Prime Minister resigning, Fifa's ethics judge following in suit, and potentially David Cameron.
"It's ridiculous that people would even try to lie their way out of this type of problem even when they're caught red handed, I don't think this should even be able to happen. We need to take precautions so that this won't happen again," senior Marcela Abanto said.