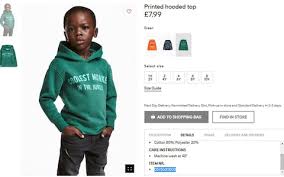 H&M isn't the Coolest Monkey in the Jungle
By: Amanda Triantafellou, Staff Reporter
       Recently H&M has received a lot of backlash after posting an online advertisement featuring a black child modeling a sweatshirt that states, "Coolest Monkey in the Jungle." Once social media users discovered the advertisement they began to accuse the brand of racism.
Many people are outraged by this advertisement, The Weekend and G-Eazy were so angered by this that they ended their partnership with the company and cut all ties with them. The Weekend stated on Twitter, "I am shocked and embarrassed by this photo. I'm deeply offended and will not be working with H&M anymore", he had collaborated with the company on his XO brand and had also modeled in their campaigns. On Instagram G-Eazy states, "After seeing the disturbing image yesterday, my excitement over our global campaign quickly evaporated, and I've decided at this time our partnership needs to end."
       On January 8th H&M apologized for the advertisement that was seen on the Swedish clothing retailer's website in Britain, they stated, "We are deeply sorry that the picture was taken, and we also regret the actual print. Therefore, we have not only removed the image from our channels, but also the garment from our product offering globally." It was clear that routines were not followed properly and they will now do whatever is possible to prevent something like this happen again.
       After discussing the topic to students from WJPS there are different point of views on the situation, some feel the situation was blown out of proportion others believe H&M should be receiving all the hate they are getting from the racist advertisement.
       11th grader, Georgia Fragioudakis, believes, "the situation was taken out of hand, if the parents truly disagreed with the thought of their child wearing it, they would not have allowed him to model in it, clearly they didn't see a problem with it so why should anyone else."
11th grader, Katelyn Aurigemma, has a different perspective on the situation stating, "that it is truly disturbing that it is 2018 and America is still experiencing these terrible racial remarks and they are seen as acceptable."
As 2018 continues, we will discover what will happen to the brand name of H&M and see how more people react to the situation as a whole, hopefully soon the problem will be solved!