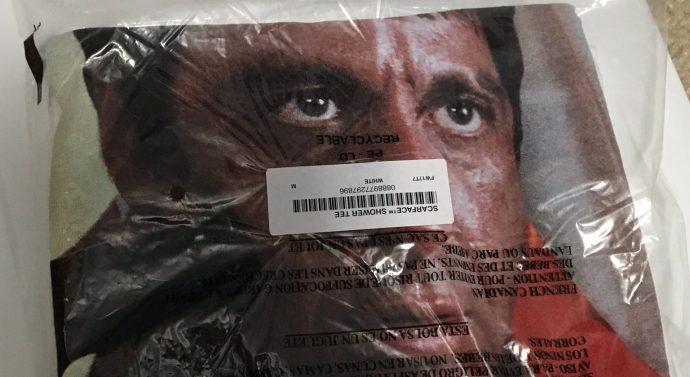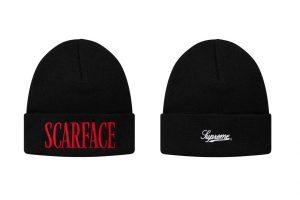 By Junior reporter Sean Marino
Last Thursday, on October 12th, Supreme came out with another great drop. It was a collaboration between Supreme and the famous movie Scarface. The drop was a variety from hoodies to skate decks, all unsurprisingly selling out within the half-hour. It may not have been one of Supreme's quickest sell-outs, but it still did exactly that. The items that were sold were a lamp, two skate decks, a beanie, four tee shirts, two hoodies, a hockey jersey, and a sweater. Both the skate decks, the hoodies, and three out of the four tees had printed on the back of them, the three paragraphs found on the front or the back of the dvd case for the movie Scarface.
 "In the spring of 1980, the port at Mariel Harbor was opened, and thousands set sail for the United States. They came in search for the American Dream. One of them found it on the sun-washed avenues of Miami…wealth, power and passion beyond his wildest dreams. He was Tony Montana. The world will remember him by another name…SCARFACE." For those who are unaware, Tony Montana is Scarface and was played by Al Pacino.
"What did you think of the collab?" Steven Palaguachi, a sophomore stated: "I think it was a very clean unique collab because it showed a different perspective in designs Supreme demonstrates in its apparel."
"Did you buy anything? Would you if you could go back in time?" Steven Palaguachi, sophomore says: "Nah. I feel that the resale price would not have been worth it and in this case it wasn't that profitable."
"Is there something you've been looking forward to buying instead?" Steven , sophomore says: "Some Bape stuff and get my hands on the shark face sweater and also the Supreme shovel because I need to dig some holes in my garden with style"