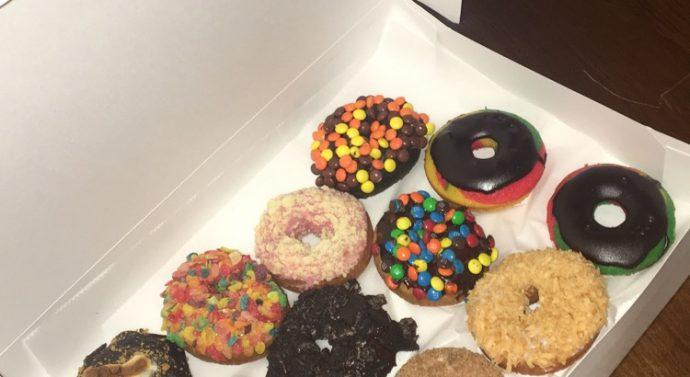 By Leah Tsambazis, staff reporter
Something colorful is stirring in a nearby community. Honey Pig Donuts, located in the Whitestone Village, has rapidly become famous among the children of the neighborhood. Snapchats and Instagrams are flooded with the beautiful appearance of these cheerful treats, not to mention its presence in conversations between students and adults.
Freshman, Jessica Aurigemma, said "I've never tried anything like them. I didn't even know any dessert could taste that good. I go there all the time."Every donut is a unique flavor you most likely have tried before. Ranging from Maple Bacon to Rainbow Cookie to Whoopie Pie, these donuts sure are memorable, even long after they are devoured.
The comforting and colorful environment fulfills the entire experience of Honey Pig Donuts. From the blow-up pink frosted treat hung on the tree outside, you know what you're walking into before you even enter. The pastel walls are inviting and childlike, and heartfelt, personal signs hang throughout.
Senior, Georgia Savva, said her favorite part of the store is the box of ideas that sit at the front counter. "They literally crave children and adults' crazy concoctions that they always dreamed of. If your idea is really great, they will make it into a donut. Now you can see your imagination in front of you and taste it for yourself."
Honey Pig Donuts Co-Owner, Jen Wasiak, says "Not only was it our talent that got us on the show, but I think it was our individuality. No one does wacky and crazy just as wacky and crazy as we do." Adding to the long list of what makes this shop unique, the owners, Jen Wasiak and Christine Pignatello, appeared on Cooking Channel's "Cake Hunters". Only the best of the best can make it onto Cooking Channel, so that should convince you of their expertise.
No matter where you live, this comforting, cheerful shop is worth the trip. They have mastered that homey, enjoyable, personal quality that comes with a visit to their store that has gradually gotten lost and forgotten about through generations. With one bite of a donut crusted in Fruit Loops, you'll be child-you again in no time.
Photos by Amanda Triantafellou and Serena Minca