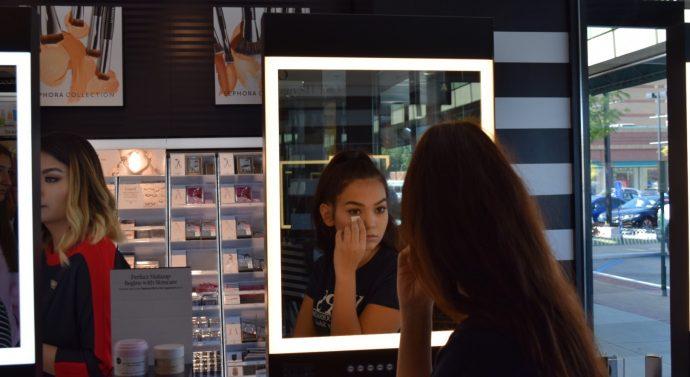 By Leah Tsambazis, staff reporter
Thanks to social media, many young children and adults hold a passion for the beauty of experimenting with different makeup looks and products. For years, this talent was constricted, because no beauty stores were close and of easy access for the Whitestone/Flushing/Bayside area. Having a supply store in the heart of Bayside makes expressing a passion so much more convenient and encouraging.
Sephora opened up in the Bay Terrace Shopping Center on September 29, 2017 at 11 a.m. Hundreds showed up to view the products and celebrate the big day with the employees, as well as the DJ present to keep the party going. From 11 a.m. to 6 p.m. the store was flooded with middle and high school students who could not wait any longer to buy quality makeup palettes and supplies.
Most teens interviewed believed that the rush of fans who were able to get to Bay Terrace quick and easy after school foreshadows the success of the store's popularity in the future.  Most schools in the neighborhood can get to this Sephora location in the matter of 15 minutes with one – two quick bus rides. Multiple WJPS students were extremely happy with their first visit and plan on going back.
Senior and makeup appreciator, Danielle Catapano said,"The staff was very diverse and happy, it made me feel comfortable. This store is giving teens the tools to express themselves through art." Many students were thankful that the staff was as welcoming as it was, feeling that it is important to provide a safe and warm energy and connection between customer and employee.
Junior, Katelyn Aurigemma, enjoyed the "friendly environment and product variety… Their business will be booming in the popular area with lots of foot traffic."Not only are young women happy to be introduce to this store, but we are proud to be living in a generation where both genders can appreciate makeup's power.
A freshman male, who would like to remain anonymous, said, "Sometimes it's scary for me to tell people, but I really do think makeup is cool; it is sad that it is not socially acceptable for boys like me even in 2017."Not only do have the Sephora customers proven to share a love for makeup and be very talented in the field, but the employees as well.
Devonni, a 29 year old Sephora skincare specialist, says she appreciates skin care and wishes more people say its importance. "Skincare is what you need to create that base. It's like you prepping your canvas before you pick up a brush to paint". The store carries all products from makeup preparation and primers, to tools and sponges for makeup removal, and everything in between.
Makeup can be interpreted two ways: hiding behind a new persona of colors and desired beauty, or a chance to raise your self esteem and confidence while utilizing the body and face to showcase a beautiful form of art. What better place to display a painting then your own being?
Photo by Serena Minca and Amanda Triantafellou
Photo by Serena Minca and Amanda Triantafellou