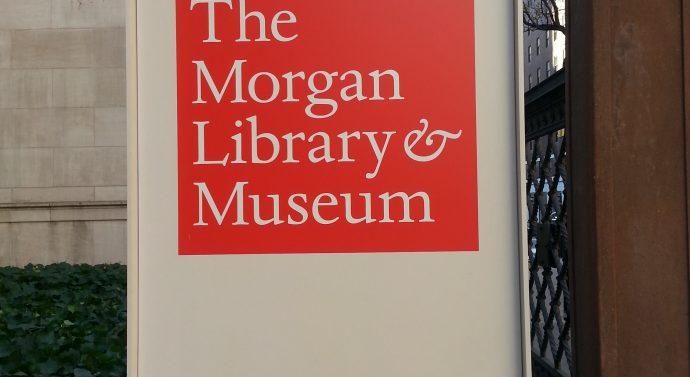 by Kay Kim, editor in chief
On Wednesday, students in AP Literature and Composition class visited The Morgan Library & Museum to preview the author, Charlotte Brontë, for the upcoming reading assignment.
Students viewed the gallery dedicated to Brontë, entitled Charlotte Brontë: An Independent Will. Brontë is a small, 4 foot 9 inch woman who created a revolution.
Charlotte Brontë was a small 4ft 9 n woman who created a revolution #wjpsnews pic.twitter.com/7U4gHGLld6

— Kay Kim (@kayhyunkim) December 14, 2016
As a young child, she and her siblings enjoyed writing stories for their toy soldiers. As she grew older, she was determined to publish her works.
When Brontë wrote a letter to the laureate, seeking to release her work to the public. However, she was turned down because she was a woman. Despite the sexist criticism, Brontë continually wrote. She and her sisters even used pen names for the first collection of poems that they wrote.
Then, in 1847, the book, Jane Eyre, was published. The book caused a revolution as the character showed traits that rebelled of the women's statuses of the time period.
"The exhibition itself was a reflection of Jane Eyre's life. Each artifact presented gave me an understanding of a part of Brontë's coming of age," AP Lit student Howie Chen said.
After the gallery walk, students were taken on a tour of J.P. Morgan's library, which is connected to the museum. The designs and artworks on the ceilings showed that Morgan valued a Renaissance view. He gained wealth by investing in steel and railroad industries. He then used the wealth to collect books and other forms of arts.
360 of the library #wjpsnews pic.twitter.com/76IHcK2Jsi

— Vivian (@viviannchang) December 14, 2016
A tour of the library provided insight for students as it showed the identity of Morgan, who fictionalized in Ragtime, written by E.L. Doctorow.
"What made it unique is we got to take two trips in one, first for a book we finished and second for a book we will begin soon. We also got to see the original manuscript of Jane Eyre, a rare viewing, indeed," AP Lit teacher Mrs. Marks said.
Through the trip, students gained insight on J.P Morgan and the author, Charlotte Brontë.