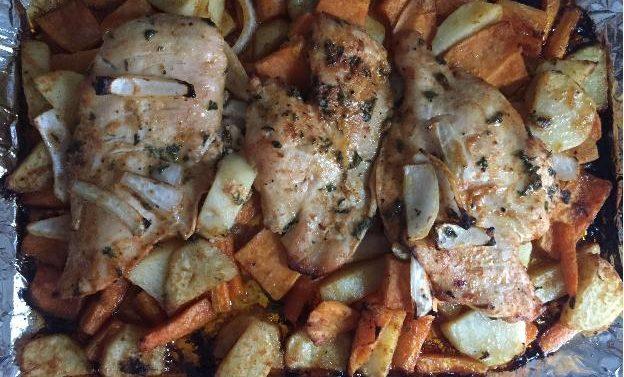 by Giorgina Orofino, WJPS almunae and creator of teenytinymeals
Hi everyone! You may remember me as the 'Gina' to the infamous 'Joegina' couple name given to my soon to be husband and I when we attended WJPS a few years back. A lot has changed since we graduated in 2013. We welcomed our beautiful princess in October of 2014 and have been enjoying life as a little family of three since then. Being a full-time mom, wife and student can really take a toll on me but I was always determined that I would never let that get in the way of what I feed our daughter. I vowed to myself that I was going to make sure she got all of the important nutrients she needed to grow in each plate of food that I served in front of her.
I have to say that since we began our food journey, she turned out to be the exact opposite of her daddy. She eats just about anything and everything. Because of that, it makes my life so much easier when I can quickly put together a family meal without slaving over the stove so I can make sure my hands are free to clean up the messes our little monster makes!
For dinner tonight, I made a roasted chicken and veggie sheet pan. This is one of those dinners for a night where you come home too late from work or have a lot of housework or homework you need to catch up on. I promise you, it is one of the quickest way to get a filling and nutritious dinner on the table in no time. All you have to do is:
Cover a sheet pan with aluminum foil for an easy clean up

Season one pack of boneless, skinless chicken breasts with flavors of your choice (I used garlic cloves, onions, lemon juice and parsley)

Dice up veggies of your choice and season with flavors that will compliment your choice of chicken and coat them with a little olive oil (I diced up carrots, sweet potatoes, yellow onion and red peppers. Seasoned them all with parsley, pepper, paprika and garlic powder)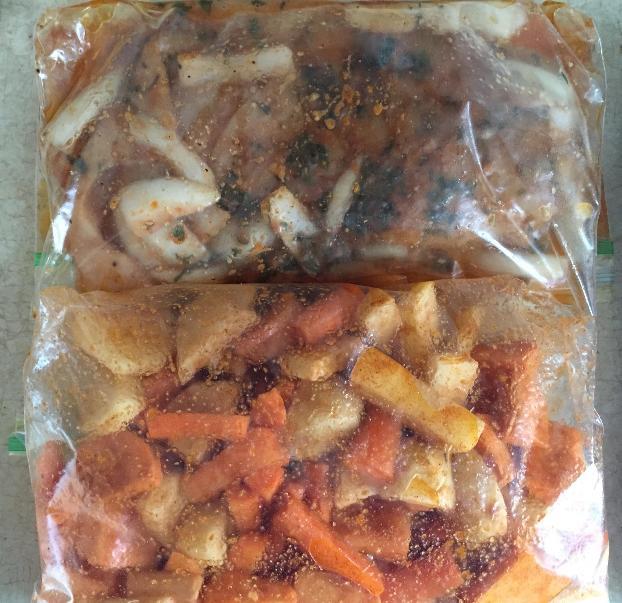 Add the veggies on the sheet pan first and your chicken breast on top to ensure it gets cooked all the way through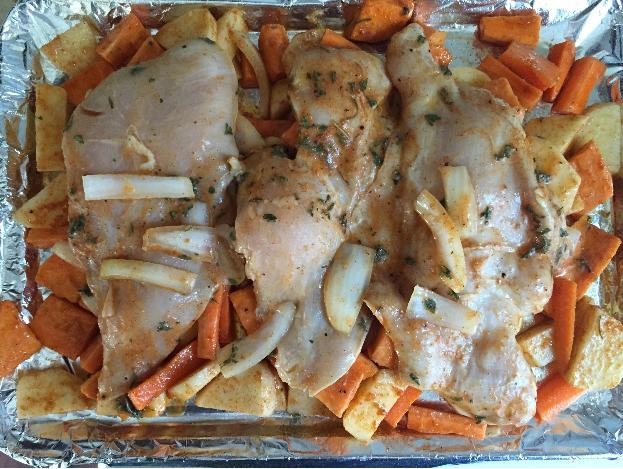 Turn your oven onto 400 degrees and let it do all the cooking

Make sure to check on veggies and chicken at the halfway mark. Toss them around to prevent veggies from burning

Remove from oven when chicken is golden brown or cooked all the way through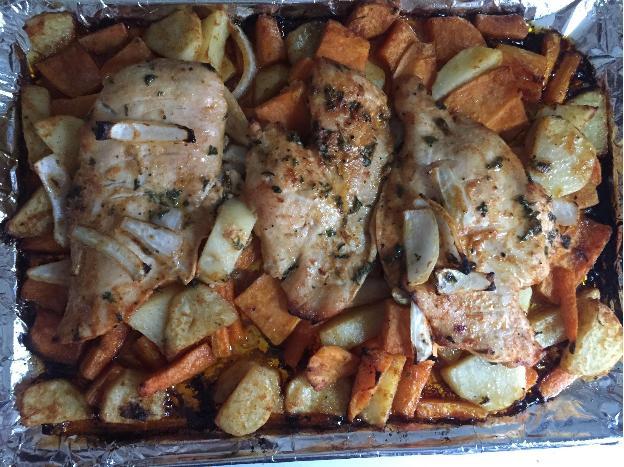 Now you have a delicious family dinner to satisfy those hungry bellies and lots of leftovers for the next day too!
For more recipes and foodinspiration, check out my blog – www.teenytinymeals.com or my Instagram @teenytinymeals