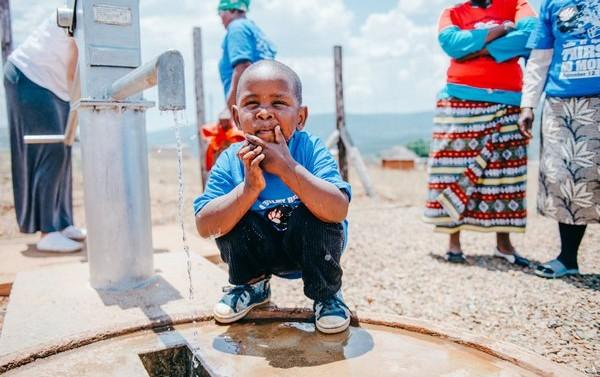 by Kay Kim, junior editor in chief
Two members of Thirst Project visited the school to educate students about the global water crisis.
"The goal of the presentations is to bring awareness. Many people tell us that they were not aware about this [water crisis]. Some people even get sad and cry, telling us that they appreciate it [the presentation]. We try to make the presentations fun and interesting, although it [the water crisis] is a sad thing," road warrior Evan Hutton said.
Thirst Project is an organization that "builds a socially conscious generation of young people who END the global water crisis."
One of the organization's goal is to raise 50 million dollars to "give the entire nation of Swaziland clean water by 2022."
Swaziland is a small country in southern Africa. The organization chose Swaziland as their main focus because it's small size allows the organization to provide water wells throughout the whole nation.  Secondly, it has the world's largest population of HIV and AIDS infected persons.
Including the people of Swaziland, there are 633 million people globally, who do not have access to safe water. Compared to the 1.1 billion people who did not have access to clean water in 2008, the number has decreased tremendously. However, the efforts cannot stop there.
On average, a woman walks 3.75 miles to fetch water. But that water is not even clean; it is contaminated with microscopic and non-microscopic parasites. People would drink and wash in this dirty water.
Contaminated water leaves the people vulnerable to many diseases and infections. Parasites in water can cause bloated stomachs, vomiting, and blood urination. It also leaves the people prone to various painful skin diseases that can take up to a year to heal.
To prevent these infections, Thirst Project is raising money to build wells. If these wells are maintained properly, they will last up to 40 years.
If the wells are built, it will provide education for children and job opportunities for women. The eight hours that they walk to fetch water can be supplanted.
"I feel most accomplished/proud when a student comes up to me after a presentation and we have a great conversation and see that I had an impact on them. To see them excited to take action to END the water crisis means a lot to me," Hutton said.
Thirst Project's presentation has moved several students.
"It [Thirst Project] gave me something new to think about. I wonder how much the kids look bad having to eat those infected foods. I hope I get the chance to help other besides myself," sophomore Clarence Saunders said.
*All the information and statistics are from Thirst Project's presentation.*