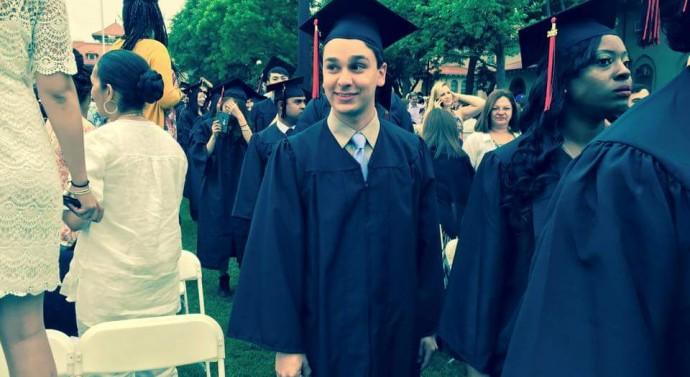 by Fernando Echeverri, alumni contributing reporter class of 2010
To My Dearest Alma Mater,
Life after high school? What do you do? Being part of the first graduating class of WJPS, I thought this day would never come. Graduating college and a professional life, it all seemed so far away, but I was wrong.
Life is about transitions. Transitioning from winter to spring, from being sick to being healthy again, from high school to college and eventually the "grown up" world. On May 28th, I graduated from Queens College to commence my journey into the unknown turmoils of the global job market. Should I be afraid? I have a college degree, doesn't that mean it will be easy to get a job?
Most of you know that is not the case, a college degree does not guarantee you a job, but like my recent Professor of Sociology, Harry G. Levine said, college teaches you to write, read, research and present — skills necessary to enter a professional career — what you do with these skills is solely up to you. That's why it's important to start early, to refine these skills even in high school.
Mentally I was still in high school when I first entered college, everyone is. Believing breezing through classes would be enough to get good grades. I learned the hard way that partying and arriving late to class did nothing for my grades. Granted, I was working full-time my entire college career, but that was no excuse to waste my money and time. Time, my friends, is the most precious thing in college, because you cannot move forward without putting the time necessary to do well.
Fast forward five-years (by the way, it's okay to take a little longer, just do not stop). I was interning at ANIMALNewYork, an art and culture website where I was published, all while working another job, writing for the Queens College newspaper and going to school full time. I'm not going to say I have perfect time management skills, but I learned to value it more then anything. Either you sleep or have a social life, and I love my sleep way too much. Ask the administration how many times I was late, that can attest to my love for sleep. Now, with more time to sleep since I don't have school, I must hone my journalism skills to their maximum potential, by blogging, pitching to websites and magazines, all while immersing myself in the news cycle.
I realized during my college career how possible it is to work in journalism. Yes, it is very competitive, yes, newspapers are to be dying out, but we're in the information age, where the possibility for journalistic entrepreneurship is at our very fingertips. I never really understood the idea behind freelance journalism, but after taking a magazine and feature writing class this year, while reading the book Feature and Magazine Writing: Action, Angle and Anecdotes by David E. Sumner and Holly G. Miller, it opened my eyes to the freelance world. Practice, presentation and doing it in a timely matter, that's what journalism is all about.
Don't be afraid to write, don't be afraid to take chances, always make your voice heard. In the journalism world, or in any career you choose, your voice must be heard. Never be timid when you speak, speak with conviction, puff your chest out and get the air from your stomach to make it louder. But, always be aware of new opportunities to learn.