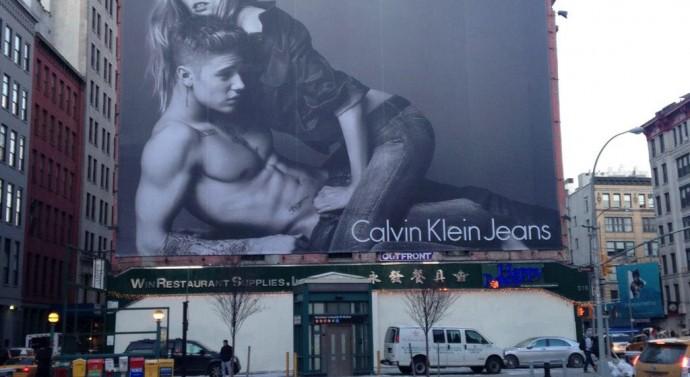 by Ifra Mahmood, staff reporter
Walking down the streets of New York City people will see billboards and posters of the ads from Calvin Klein campaigns. One of the most popular ads they would see is the Mark Wahlberg ad.
Calvin Klein was founded in 1968 and is known as one of the most famous fashion labels in the Industry. It is also known for the best advertisements and campaigns for their company. Pop star Justin Bieber is the new face of Calvin Klein for the year of 2015 alongside model Lara Stone.
Bieber first started to post several pictures taken by his photographer, Mike Lerner on Instagram and Twitter. In those pictures Bieber was wearing Calvin Klein briefs and was secretly hoping to be a model for Calvin Klein someday.
"I have been wearing Calvin Klein underwear for years in hopes of getting to model for the brand one day," Bieber said in an interview with WWD.
"I actually am a big fan of Justin Bieber and when he first hinted working with Calvin Klein I was really excited to see the outcome of the project. When the pictures were released I was surprised, they looked amazing," junior Josabeth Vinas said.
The photoshoot took place early 2014 in New York City and Bieber posted a picture from the shoot on Instagram. With fans waiting for several months for new music and for more details of his new project Bieber gave them an idea. Bieber stripped on stage at Fashion Rocks fashion show on tv wearing Calvin Klein underwear.
The photoshoot pictures were released on January 6th along with an advertisement video. Bieber received both positive and negative comments from the public. When he posted the pictures on Instagram he got over a million likes and thousands of comments.
"I think it shows Justin has grown up and was finally on the news for something positive vs how he was on the news last year after his arrest," junior Rosemarie DiGioia said.
Bieber is officially a part of the legacy in line with Mark Wahlberg, Kate Moss, Antonio Sabàto Jr., Nick Jonas, and many other celebrities and models. Bieber and his manager, Scooter Braun, have stated that this is only a start to a new beginning to his career.