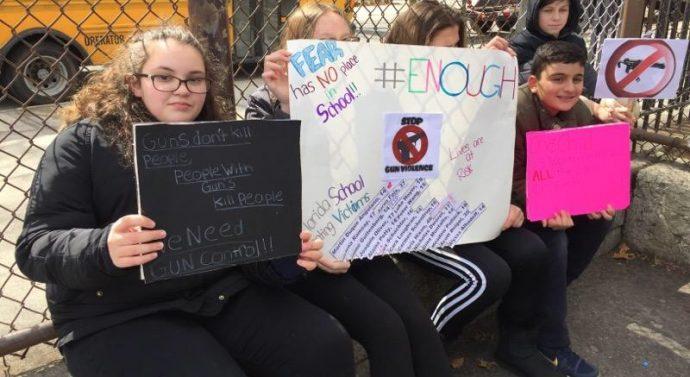 By: Cameron Casalta, senior reporter
WJPS students showed their support for school safety across the nation and the gun control policy.
On Wednesday March 14, 2018, students across the nation walked out of school for 17 minutes in memoriam for the 17 students who lost their lives in the tragic school shooting in Parkland, Florida.
The Department of Education did not penalize the students harshly with students only receiving a notation for cutting class in their student attendance records and a conversation with an administrator.
WJPS students exercised their First Amendment rights as they rallied in the large schoolyard with the ''Never Again'' backdrop.
Student government and ambassadors took this school walk out as a call to action and worked together to create an alternative way for students to stand up for what they believe.
"The walk out was planned but we wanted to do more, we felt the walk out wasn't enough and we decided our school could do more which lead to organizing the rally," said senior and organizer Jordan Shluker.
Students did not have to make a decision, where they had to sacrifice their civic rights or a clean record; they only needed to participate because they believed action needed to be taken.
A gun control rally was organized outside in the afternoon on the same day for students to attend if they decided.
"The one thing student should take away from the rally is to express your opinion and be less apathetic to gun violence, our school has never really expressed a political view but we should not be afraid to," said Shluker.
Three student speakers recited speeches they wrote to bring awareness to school shooting, the danger of automatic assault weapons and to inspire change to achieve a safe environment for learning.