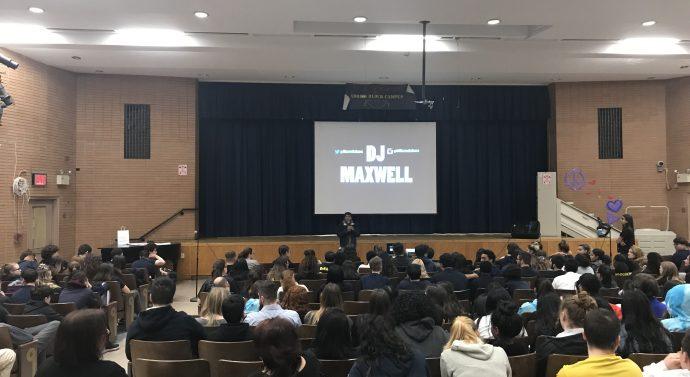 By Editor Leah Tsambazis
Z-100 Ways to Entertain
DJ Maxwell from radio stations Z100 and iHeartRadio came to World Journalism Preparatory School on March 1st, 2018. The students were ecstatic to hear about all that he has done, and all the celebrities he has worked with.
Julia DiMarcello, Junior, said, "We first met Maxwell by accident when I was walking through the park in the city. After staying in contact, I always knew I wanted to share his fun, lively personality with our student body."
A slideshow filled the projector screen in the auditorium, while filling the audience with smiles. Multiple pictures featured stars like Selena Gomez, Little Mix, Bruno Mars, and Jay Z. It also incorporated snippets of his time co-hosting Teen Nick's Top 10 with famous host Nick Cannon.
Something interesting Maxwell mentioned was that Z100 provides an internship program that students can apply for online. It allows students to become part of the radio station they grew up listening to on their daily car ride to school. A 6-week program, either spring, summer, or fall, teaches young aspiring entertainers all about the industry. Teens can apply at https://z100.iheartradio.com  .
Maxwell was truly inspiring to all of the WJPS student body as he spoke about his loss of hope and continuation of determination and diligence. He stated that he had to undergo multiple jobs that were not as satisfying and rewarding as his current position. In order to be successful in that industry, you have to build your way up. The auditorium isles were flooding with students lined up behind two microphones to ask questions.
Kevin Cosgrove, Senior, said, "I was happy to listen to music and learn about something so satisfying to me and my friends. Music is cool, everyone loves it."
Not only was this a great moment in WJPS history because music is something that appeals to most, especially our generation, but because it was a refreshing break from classwork, and, occasionally, we all need fun events that bring our World Journalism family closer together.