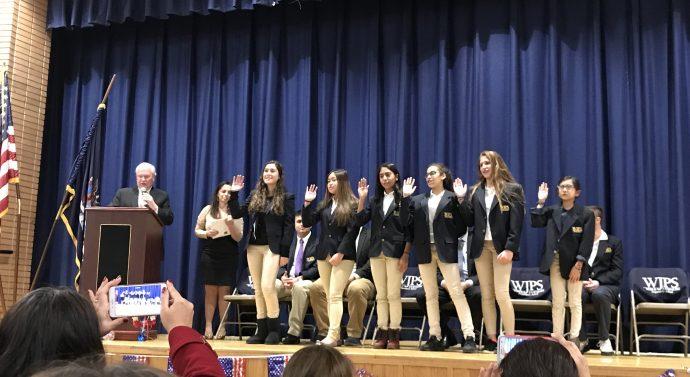 By Deborah Cobourne, staff reporter
Awarding students for their merits and for their high participation in their school. On November 27th, World Journalism Preparatory School held their very own Inauguration to award members of Student Government for their hard work.
 "I think that an Inauguration is a great thing to have to celebrate the victories of candidates that worked really hard to secure the positions in our grades." says 10th grader Seth Brelend, Executive Council Vice President, who came up with the admirable idea. Due to his interest, he is greatly involved with local government officials from his experience.
The Inauguration started off with everyone standing, facing the flag for the Pledge of Allegiance, leading into opening remarks from Principal Dr. Werner, Assemblymember Ed Braunstein, and Senator Tony Avella. Each grade was sworn into office and the Execute Council was introduced and sworn into office too.
" It puts a focus on student government, student voice, and student rep. The inauguration makes them visible, giving students a chance to actually see the people who are actually representing them." Dr. Werner had some very positive feedback on how this will benefit the school.
"I want to bring in a lot of money and a lot of fundraisers…the major things we want to do is bring the student's voices into administration. I want to be that "bridge" connecting all the grades when it comes to policy matters. We really want to have a voice that matters in accepting students." Moving forward, Seth Breland has plans that could really help the school and overall, make it fun for the students who come here.
Each year a new set of students rise up, taking matters into their own hands to make their school a better place. This allows our students to know that no matter who we are or what our position is in our school, we all matter. We all have a voice and we need to use our voice. Starting off with a strong beginning, our Student Government and Executive Council has been a great change to our flourishing school.