By: Junior writer Aaliyah Rodriguez
The nostalgic sci-fi/horror thriller about a missing boy is almost a throwback to the favorites of the '80s and has terrifying twists and turns. When Joyce's 12-year-old son, Will, goes missing, she sends an investigation into his disappearance with local authorities. As they search for answers, they come  across a series of extraordinary mysteries involving secret government experiments, supernatural forces, and a strange little girl.
   Season 3 of Stranger Things has been officially confirmed. Ross Duffer confirmed: "If we're able to, there will be at least four, there could be more. I think there's going to come a point where why aren't these people leaving Hawkins? Like we're going to stretch credibility. It wasn't intended to be a seven-season thing."
   Netflix officially renewed Stranger Things for season three on December 1, but didn't confirm the episode count or when the show would return. The Duffer Brothers have confirmed that with season two, there will be a time jump of one year between seasons two and three.
   11th grader Gabi Bayconich says " My favorite character would have to be El, because she is pretty and shes the most interesting character. The show wouldn't really exist without her."
   11th grader Ashley Romero says "Season two is my favorite because my favorite ship is meleven, which is Mike and Eleven. We  get to see there relationship go to the next level, and it got me emotional"
   We have yet to come to the conclusion of what season 3 will be about, but I'm sure that it will keep us at the edge of our seats just like the last two seasons. Introducing us to new characters to relate to and enjoy. I can say that the excitement is there, speaking for the majority of Stranger Things fans too.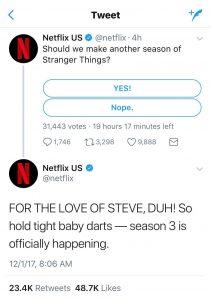 Netflix's recent tweet asking its viewers whether or not to create a new season !