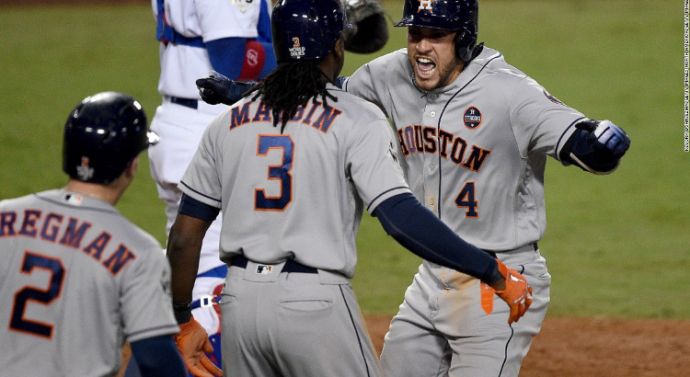 By Thomas Monaghan, sports reporter
After an exciting and successful year for Major League Baseball, the Houston Astros have won the World Series. The Los Angeles Dodgers and the Houston Astros battled each other in one of the most thrilling and electrifying World Series ever played. It was the first time since 1970 that both teams won over a 100 games in the regular season. The Dodgers won 104 games and the Astros won 101 games. Both teams were heavily equal in skill and power. It was hard to pick favorites in this series. The Astros and Dodgers set a record of the most Home Runs ever hit in a World Series and comebacks.
After the series was tied, Game 7 was in sight at Dodger Stadium. Yu Darvish was on the hill for the Dodgers and Lance McCullers for the Astros. Darvish was off to a very shaky start for the Dodgers give up 5 runs in the second inning. Astros outfielder George Springer hit a two run home run to take Darvish out of the game. That was the 5th home run of the series for Springer, tying Reggie Jackson and Chase Utley for most home runs in the fall classic. Lance McCullers was solid until manager of the Astors A.J. Hinch took him out of the game. For the Dodgers, their ace Clayton Kershaw took over and threw 2 scoreless innings. But it wouldn't be the difference maker because LA's bats were silent.  Another hero of the Astros, pitcher was Charlie Morton who pitched 4 scoreless innings and blanked the Dodgers lineup. In the bottom of the 9th inning, with two outs, Dodgers Shortstop Corey Seager hit a ground ball to end the game, making the Houston Astros win its first World Series Title.
A WJPS Junior, Raul Castrejon stated, "I really enjoyed watching game 5, it was a roller coaster experience with all the scoring and consistent offense and all the long ball dingers". 
This World Series was certainly an historic one. From records being made to a franchise winnings its first championship. From a city rallying behind each other from a natural disaster and coming together as one, Houston stayed strong and resilient and it paid off. Manager of the Astros A.J. Hinch described it as, "You know what Houston? You're a championship city!" Overall 2017 was a grand slam for Major League Baseball!