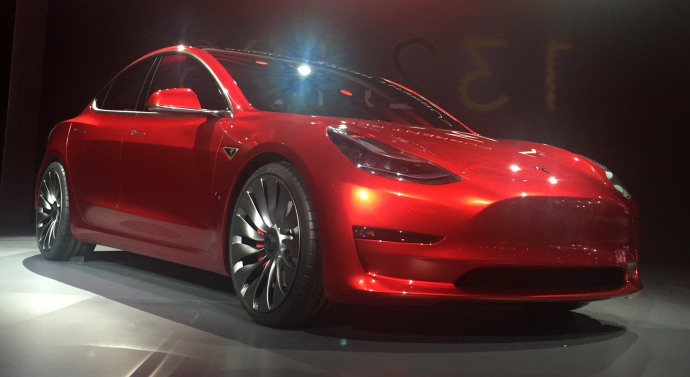 by Matthew Crespo, technology reporter
The Tesla 3 is one of the most looked-forward to cars in the 21st century. For over 400,000 people with pre-orders, it is supposed to come out in 2018. For everyone else, it won't be available in Tesla dealers until 2019. This highly anticipated car has features that have never before been seen in a car. One investor said that the new Tesla 3 could bring sales to the BMW 3 series to zero.
This car will have a price starting at $42,500, after tax. The premium upgrade would cost you $9,000 extra, and it includes enhanced autopilot, 19 inch wheels, and metallic paint colors.This upgrade allows you to go from 0 mph to 60 mph in 5.1 seconds which is a half second faster than than the non-upgraded car  Many reviewers say that customers should get the premium upgrade, because the enhanced autopilot makes the Tesla 3 essentially a self-driving car. The first available cars will go to reservation holders who work at Space X and Tesla. Tesla had to raise over 1.2 billion dollars just to launch the Tesla 3, but Elon Musk, CEO of Tesla, is very optimistic that the sales of this car will go sky high.
This car is a luxurious four door sedan. The front will have a low hood, which is achievable due to the car having an electric motor, which is a lot smaller than a gasoline engine. It will have space to fit 5 passengers inside the car. A video was released by Tesla showing the inside of the car to give clientele a better glance at the car. It will feature a 15 inch touch screen T.V, combining all key functions into a single unit. The car also features Wi-Fi connectivity, rear view mirror navigation, voice control, and a dual-zone climate control. The Tesla Motors app will also allows owners to remotely lock and unlock the car and to set the climate inside the car. The Tesla 3 is completely silent and vibration free as it's an electric car. The Tesla 3 will also include a Camper mode, which turns the flat surface turns into a tent. The car will have two trunks, one in the front, and one in the back.
Even though this car might not come out until 2019 for some, this is one of the most exciting cars of all time. Tesla 3 is showing us how we can make cars luxurious, but cleaner at the same time. This has always been Elon Musk's plan. His companies are mostly involving with reducing pollution in the world. The Tesla 3 is showing us how the future is bright.