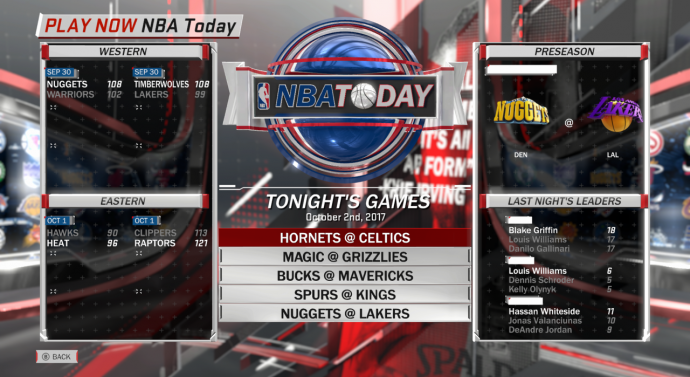 by Michael Cantelmi, technology fact checker/reporter
NBA 2K18 came out recently on the 19th of September, and many loyal NBA 2K players got it 4 days early to test out the game and play it with friends. This article will be my honest opinion on the game and information about each game mode.
The first game mode you see when you play NBA 2K18 is Play Now. One feature you can reach from here is NBA Today. When the NBA regular season starts, you will be able to re-enact the game, playing locally with friends. Another feature is 2KU, where anybody can learn the basics and practice using any player they desire. The biggest game mode in Play Now is Play Now Online, where you can play head to head using current NBA teams against friends or in divisions. The divisions go from Freshman all the way to Greatest of All-Time. Play Now is not that popular throughout the 2k Community, and is not a personal favorite either.
The next game mode we will talk about is MyCareer and Neighborhood. MyCareer is the story mode of the game, and in this version you go from undrafted to becoming a big time superstar rising to the top, if you are up for the challenge. Neighborhood is an online area where you can get a new look, play casually with friends, or compete in the 2K Zone and win VC. There is also The Playground, and this is where you can play online against and with other players. VC is short for Virtual Currency, and you earn that by playing various game modes, using it to upgrade and customize your MyPlayer.
So what is a MyPlayer? MyPlayers are characters that you make and can customize to almost the fullest extent. MyPlayers all have different archetypes, meaning they all specialize in one category and also can excel in another. For example, each MyPlayer has a primary skill and a secondary archetype. You can also make a pure archetype, such as a pure Sharpshooter or a Sharpshooting Playmaker. It takes a lot of time for players to get a lot of VC, unless you buy it at an insane price, almost the price of the actual game. Overall, this is one of the best features in NBA 2K18, and will likely stay on top for future versions.
The next game mode we will talk about is MyTeam. MyTeam is a gamemode where you build your dream team using basketball stars from the past and present. When you start off MyTeam, you get to choose a team name and a city to start from, and you build your dream team. The game starts you off with 5 easy challenges called Warm-Up Challenges, which you can complete quickly with any team, as long as you've played any 2K before. After these there are weekly challenges which have new goals to accomplish, earning you tokens. These unlock better players, improving your lineup. In MyTeam there are also goals you can complete to unlock certain features and better players over time. This year they added a gamemode called Pack and Playoffs, where you draft your lineup and compete against other people online. MyTeam has improved a ton since last year's version.
The last game mode we are going to talk about is MyGM/MyLeague, this game mode is historically one of the worst game modes in NBA 2K, and almost never changes. The Trades are broken in this mode. You can trade away a bunch of 2nd round picks in the draft for top players that teams would never accept in real life. The one improvement is a new mode called Start Today, which allows you to keep up to date with current rosters, simulate real games to the point of adding injuries, and try to predict what will happen. This mode will not change the game enough to make MyGM/MyLeague popular, but it is a good start to improvement.
On a scale of 1-10 I would give this game a 7.5. NBA 2K18  has really satisfied me playing online, but offline it is almost a joke, and does just about nothing but waste your time. One major improvement this game could make would be making MyGM/MyLeague a more enjoyable game mode, and something this game has done well is all the different online features, along with building your player to be a superstar.