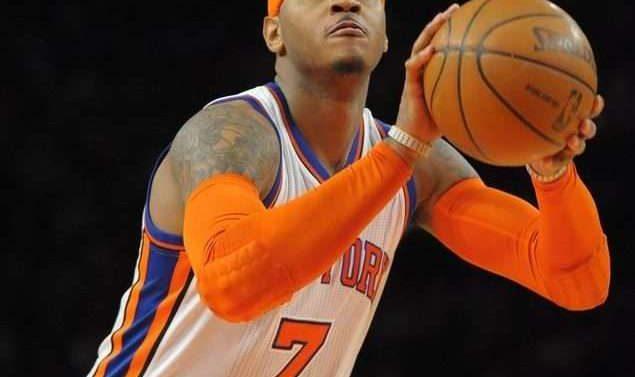 by Anthony Gruenfelder, sports reporter
On Saturday September 23 2017, the NBA world was shocked, due to the 10 time NBA all-star Carmelo Anthony being traded to the Oklahoma City Thunder from the New York Knicks. Carmelo Anthony has been playing with the Knicks for six years and since then the Knicks haven't been living up to the expectations he thought the Knicks would have offered. Carmelo Anthony couldn't take losing any more so he decided he had enough. He wanted to leave the Knicks as fast as possible.
Carmelo Anthony waived his no trade clause and decided to chose between three teams. Those three teams were the Houston Rockets, where he would play with James Harden and Chris paul, next was the Cleveland Cavaliers where he would play with Lebron James, Isiah Thomas and Kevin Love, and the last team was the Oklahoma City Thunder as a last resort where he would play with Paul George and Russell Westbrook. When the Knicks & Carmelo realized there was no hope of being traded to the Rocket's and the Cavaliers Carmelo Anthony to be traded to the Cleveland Cavaliers, Carmelo Anthony finally opened up to his last option the Oklahoma City Thunder where the New York Knicks finally agreed to a trade away Carmelo Anthony. Carmelo was to the Thunder for traded for Enes Kanter, Doug McDermott and Chicago Bull's 2018 second round draft pick.
Junior, Andrew DeDomenico opinion on the trade was "The New York Knicks benefited from the trade because now we have a direction with our franchise. Now we need to rebuild and move on."
Junior, Nick DeDomenico also shared his opinion saying "I think it was a breath of fresh air for the New York. I feel as if we can build off of what Carmelo left behind and bring in new talent."
In this deal both team got what they wanted but the New York crowd had mix opinions. Some people loved the idea of getting rid of a player who hasn't done anything for the Knicks and some people hated the idea of Carmelo Anthony leaving for another team and want their star player back. The Thunder will rebuild the team to compete in after the loss of Kevin Durant in the 2016-2017 season and rebuilding with Carmelo Anthony,Paul George and 2016-2017 season MVP Russell Westbrook.The New York Knicks will now have to restart and try to rebuild their team with fresh new young players. The Knicks will focus their intentions on their power forward Kristaps Porzingis.