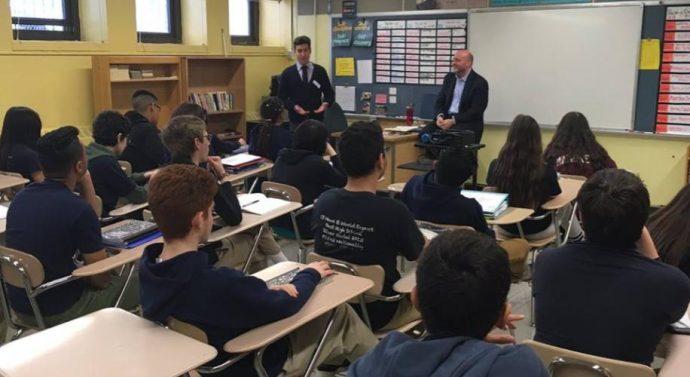 by Esther Animalu and Yasmine Mohamed, staff reporters
On April 26th, Director of News and Programming, Tim Scheld, and broadcast journalist, Alex Silverman of WCBS 880, lectured high school students on the fundamentals of journalism as well as the criteria behind their occupations.
Through this, students were able to get a first-hand account about how to conduct interviews, cover breaking news stories and expand upon their researching skills. Scheld and Silverman were asked an array of questions by student journalists, pertaining to current events controversial coverage, accuracy and remaining objective.
When asked about whether they face hardship due to the prevailing criticism that has been going around lately, News Director Tim Scheld said, "Good reporters are the ones who take a step back, in order to find the solid facts. In this field, it's important to always be skeptical and analyze information from all sources. People in power complain about media coverage all the time. It's much more harder to cover stories now."
Students learned concepts surrounding the Communications field and colleges that are aligned within this field. Silverman relayed the importance of pursuing a career in this field, while stressing that being a solid journalist means being unbiased and being aware of sensationalized news.
"We need you. We need more journalists, there's a lot of fake news today that is circulating around. It's important for us to keep the media accurate and credible. When the Washington Post put up their new slogan, 'Democracy dies in darkness,' it made me realize that you can't have a democracy without journalism. The attitude towards the media is more hostile than it has ever been. But that just means, it's even more essential now," Radio anchor, Alex Silverman said.
Examples of advice given was, "Once you have a story, it's a story, regardless of where it came from."
When questions over the possible violence that can arise from a news arose, both replies were that "Violence is not a result of news coverage." He explains this by saying that violence comes from a very small minority of people, but sometimes news crews "paint them as a majority, but it is almost always only a few agitators."
Due to current events, there was apparent confusion as to whether news coverage is ethical or not. As this is a controversial topic, examples of President Trump's campaign, his inauguration, and the Berkeley riots were discussed and clarified.
Ultimately, the presentation was meant to inspire students to start networking with other journalists in order to gain experience and opportunities.