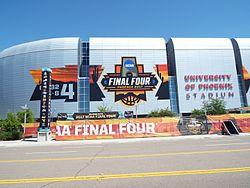 by Omran Hamidi, sports editor
The 2017 NCAA Tournament is underway and there has been plenty of memorable moments so far. From buzzer beaters to upsets, this is the time of year college basketball fans relish.
This past weekend, college basketball fans have witnessed upsets in which most did not anticipate. South Carolina was not even sought to enter the tournament due to their slump midway and towards the end of the season. The key for their run so far has been their coach, Frank Martin.
"We all have our paths, there is no A B to C, but Frank's story is a pretty fascinating one," Ole Miss coach Andy Kennedy said. He continued, "He wasn't a great athlete, didn't have a ready-made path or a family member or whatever in the profession. His path was one of grinding and working." As Kennedy stated, it was essentially Martin's background which prompted his team to come this far. Defeating the likes of Butler, Duke, and Florida shows the kind of winning culture Martin has established throughout his tenure with the Gamecocks.
Taking a chance on players proved to be what Martin was all about due to people giving him a chance to show out. Sindarius Thornwell, averaging 20 points per game throughout the tournament, is one of those players in which Martin took a chance on.
"Signing and growing up in South Carolina, all we asked for was a chance to make it," Thornwell said. "We didn't ask for — coach ain't guaranteed us anything, but to come here and just work hard and give ourselves a chance. All we wanted was to make it. All we wanted was a bid in the tournament, to see our name on the board. And when we got our name on the board, the rest we'll take, the rest takes care of itself. All we wanted was a chance."
"South Carolina has to play at their own pace their next game and have to score in transition in order to move on," senior Ronnie Baratela said.