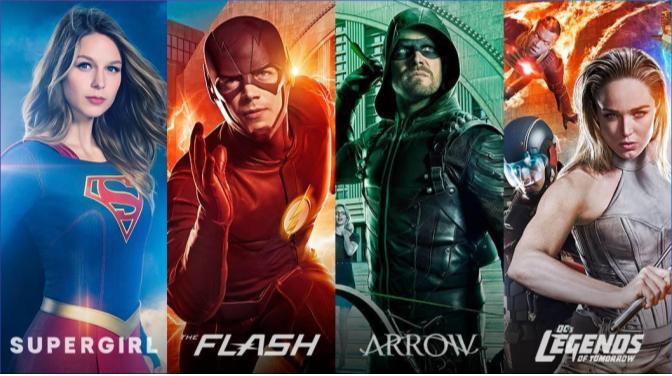 by Cameron Casalta, staff reporter
This is the golden age of television for DC comics with four hit CW programs; Arrow, The Flash, DC Legends of Tomorrow and Supergirl.
Supergirl airs on Monday nights at 8pm. Supergirl, also known as Kara Zor-el, is kryptonian and the cousin of Superman who also happens to share all of his powers. She just wants to be a superhero and live up to the expectations her cousin have set.
The Flash, airs on Tuesday nights at 8pm. The Flash is a man named, Barry Allen, who was struck by lightening, gaining the power to move at superhuman speeds to save lives and fight crimes.
Arrow airs on Wednesday nights at 8pm. Green Arrow, more commonly known as Oliver Queen, is a vigilante ad. While he may not have any superpowers, he can "hold his own" in a fight with his bow and arrow and he will do everything in his power to protect his city.
DC's Legends of Tomorrow, originally aired on Thursday nights at 8pm, has recently been changed to air on Tuesday nights at 9pm after The Flash. The Legends are a ragtag team of  heroes and villains put together by a rogue time traveller to prevent crisis. Some of the most prominent members of the team are Firestorm, White Canary, and Atom.
The superheroes within these shows are The Flash, Green Arrow, Supergirl and the Legends. This foursome will band together to defeat the Dominators, Alien Invaders. The Flash, Supergirl and DC's Legends of tomorrow are more light-hearted shows individually compared to Arrow, which has darker themes.
This crossover consists of four episodes, one episode for each superhero. This is done to advance the overarching plot while keeping each unique perspective of the four shows
"The DC crossover episodes were amazing, and I loved how everything was connected to the Flash," 11th grade student Brianna Mendoza said
All four shows hit or tied season rating highs in adults 18-49 and viewers with the crossover, based on the DC Comics "Invasion!" storyline from the late 1980s.
"The crossover over episode was amazing. As a viewer of Flash and only Flash, it was great to see a bunch of characters I've never seen before. The plot was great and kept me at the edge of my seat the whole time. [My rating is] 9/10," 11th student Shayan Karim said.
The CW Network greatly benefited from this four part crossover. Every show had a large surge in ratings compared to regularly scheduled programming. These were the ratings for each episode of the crossover of how many people tuned in to watch: The Flash: 4.2 million watched,  Arrow: 3.5 million watched, Supergirl: 3.5 million watched, Legends of Tomorrow: 3.33 million watched. Supergirl and The Flash, the network's two top-rated shows, each drew ratings 36 percent above their prior average for the season. Arrow and Legends of Tomorrow had bigger gains, with each show nearly doubling its average ratings.