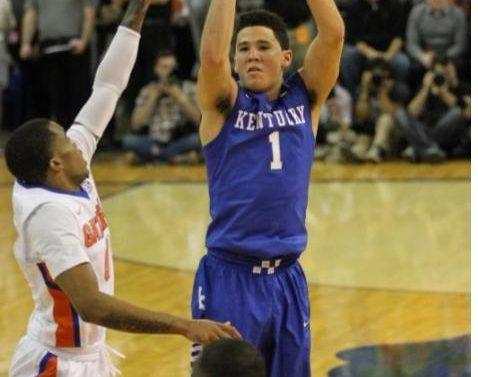 by Prabhdeep Dhami, sports editor
20 year old Devin Booker dropped 70 points against the Boston Celtics as the Celtics defeated the Phoenix Suns 130-120.
Booker joins a company of Wilt Chamberlain, David Thompson, David Robinson, Kobe Bryant and Elgin Baylor as the only players to score 70 points in a game.
Booker finished 21 of 40 with four threes and hitting 24 of his 26 free throws. He also had eight rebounds to go along with six assists in 45 minutes of playing time.
After the game, words were exchanged on social media between Jae Crowder of the Celtics and Booker. After the game, NBA posted a picture of the Suns team with Booker, holding the number 70 in the middle. Crowder stated, "Never seen so many guys happy after an L". Booker fired back, "You can't guard me" with Crowder deleting his comment later. However Crowder came back and said, "I was talking bout them dudes around you. But I'll see you next yr."  
Clearly Crowder and the Celtics didn't appreciate Booker's performance with star player Isaiah Thomas saying, "We're worried about the playoffs. They're worried about the lottery."
"I saw the highlights of the game and was amazed by what Booker did. The fact that he's 20 and can do this is crazy," senior Ronald Baretela said.