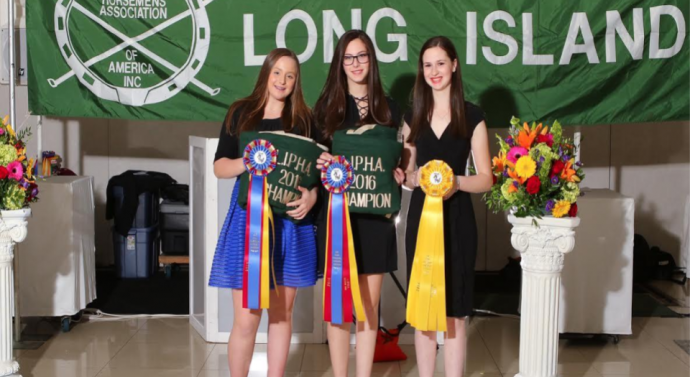 by Erika Donis, staff reporter
Isabella LoMonaco, a sophomore at the school, took up horseback riding as a hobby. The hard work has payed off because she was placed 1st in the LIPHA out of 50 contestants in Long Island. She also won nearly every show she did in the Low Children's Equitation.
LoMonaco started competing in 2014, even though she started riding when she was five years old, and started actual lessons at seven. Now she competes almost every weekend, and practices six days out of the week with long hours to keep perfect positions and memorize courses.
Other tasks come along as well, such as taking care of her horse, Hunter, and completing her chores. But Isabella reveals that this hobby can be very time consuming and expensive. It's not like any other typical hobby; it requires a lot of dedication on her part to maintain her horse and perfect her skills.
"It's a challenge, my part is to make it look as easy as possible," Isabella LoMonaco shares about her experience in horseback riding.
Horseback riding is more than a sport, and is judged very rigorously. Participants are judged based on how the rider looks, and how smooth both the rider and horse complete the course. It's all about presentation and how visually pleasing it looks to the judges and audience.
Isabella LoMonaco also faces personal challenges such as staying motivated in such a competitive and time consuming sport. She's confident in how she rides but knows that might not always allow her to place well in front of the judges. "Knowing you can't afford a nicer horse can be annoying. You work so hard for so long but if the judges don't like your horse, then your hard work doesn't show."
Besides all the obstacles Isabella faces, her best experiences include placing 2nd at the Hampton Classic and 3rd at the Garden State with her horse Hunter, as well as winning champion in LIPHA. Her motivation is her horse, Luna, who is always waiting for Isabella to return.