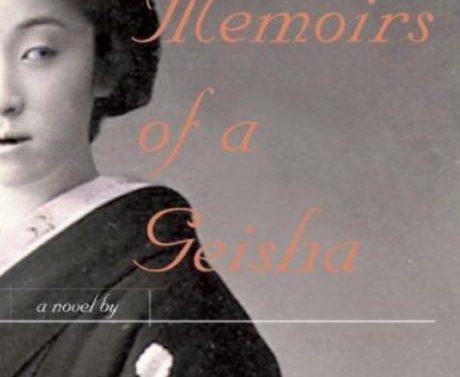 by Elena Espinal, staff reporter
One of the most captivating and life-changing books ever!—Memoirs of a Geisha by Arthur Golden is a well-known historical fiction book about a young girl named, Chiyo. Born with crystal clear-blue eyes in a fishing town, she goes through the struggles of becoming a Geisha in Kyoto, Japan during World War II. The author, Arthur Golden, is very knowledgeable about Japanese culture from living in Tokyo. The book, published in 1997, proves that a Geisha's life is not always as pretty as it seems. This book is recommended to anyone who wants a good read with valuable life lessons behind it.
Chiyo is forcefully adopted at a young age into a Geisha home. This is where young Japanese girls are bought and trained to be hostesses who entertain men with conversations, dances, music, and beauty, which is valued over the rest. She is separated from her sister, father, and sick mother, placed into her "new family", and treated as if she is of a lower status. The most esteemed Geisha in the home, Hatsumomo, despises Chiyo because she is jealous of her sky-colored eyes. When Hatsumomo's arch-rival, Mameha, realizes Chiyo's true potential, she takes her under her wing and trains her to become the most envied Geisha in Japan. While everyone else is treating her with disrespect, only one man that goes by "the chairman" is kind to her. Chiyo falls in love with this high-ranking man and makes it her only goal to be with him. With a lot of time and dedication, Chiyo soon surpasses Hatsumomo because she is wanted by the wealthiest men in Japan, including the chairman. But when World War II arises, all of the other Geishas' hard work goes to waste and they must evacuate the city.
The overall plot of the novel, Memoirs of a Geisha, keeps the reader wondering as every detail is very compelling. It is an amazing book, and the film is well-loved too. The valuable life lessons behind this award-winning book have the power to influence anyone, such as the quote, "You get what you work for, working hard will reward you in the long run." This is expressed through the book when Chiyo struggles, but pushes through and rises above all her obstacles.
Another life lesson from the novel is, "You are never prepared for what will happen next, your whole life can change in a second." When Chiyo and her sister are taken away, they never knew if they would see their family again. Their motives in life change and the same lesson is taught again when World War II surfaces and all of the hard work Chiyo accomplishes gets thrown away.
The last and most controversial quote in the memoir is, "True love can be found anywhere and has the ability to take you far, however it may not always end up how you want it." When Chiyo first meets the chairman, he is much older than her, and they meet upon an accident. However, she was still in love and made it her goal to be with him, so she becomes a profound Geisha. Unfortunately, in the end, all of this hard work did not allow them to live happily ever after with each other.