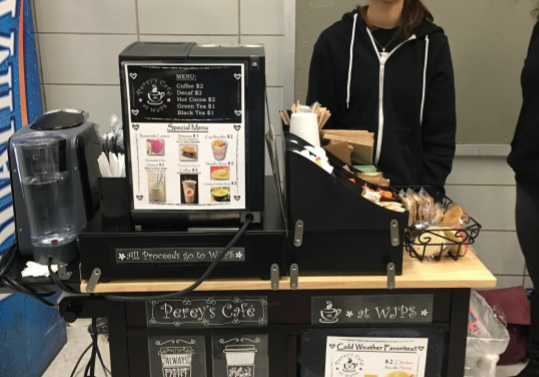 by Katelyn Puzzo, staff reporter
Last year, junior, Perey Yung, started her own coffee cart named, "Perey's Cafe." Perey's Cafe is opened during fourth and sixth period in the cafeteria.
Perey wanted to share some of her favorite drinks with her friends so she came up with the idea to open her own coffee cart.
"I drink green tea and decaf coffee so I thought my friends would like it too," Perey said.
To turn her idea into a reality, Perry's brother, Halley, helped her build the cart and her mom came up with ideas for the artwork.
Perey does not make any profit from her coffee cart. Instead, the money benefits the school.
"Part of the money earned is for supplies and the rest is for WJPS, Ms. Pepe collects the money for WJPS," Perey said.
Some best sellers at the cafe are S'mores and Cup of Noodles.  
"I buy from Perey's cafe about daily. My favorite item is the Cup Noodles," junior John Amedeo said.
Perey also sells Coffee Cards called "Perey's Perks" to teachers to appreciate their hard work. The card is five dollars and they are eligible to get one coffee for free out of  six coffees.
Perey did not expect her coffee cart to be become such a success, but she is glad it did.