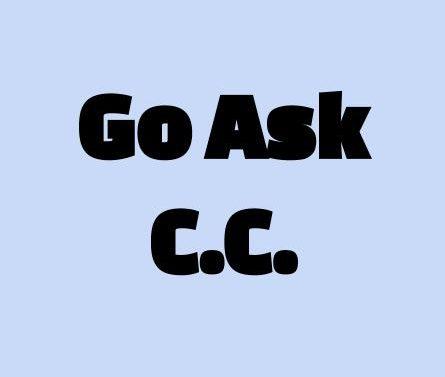 by Cameron Casalta, staff reporter
Dear C.C.,
  So, I have a bestfriend who I have known since first grade. The reason our friendship has lasted so long is because we balance each other. She is extremely outgoing and I am, well… a bit of a nerd. Since she is a social butterfly and has a heart of gold, everyone she meets instantly loves her and wants to be her friend. I am totally cool with this because I know she will always be my best friend and have my back. Sadly, we went to different high schools, but fortunately we kept in touch through texting, Facebook, and Instagram. I now see her three, maybe four times a year.
One of the days we finally got a chance to hangout, she told me she has boyfriend and they have been together for six months. (It's been six months since the last time I saw her). Of course I was surprised, ecstatic and wanted six months of details. He is supposedly an amazing guy, an amazing boyfriend, an amazing artist, etc… When I do get to meet the boyfriend, we hit it off and everything she said was true. I was very happy for her and I still am.
 Several months after I meet her boyfriend, I organize a day to hangout with my bestie and another mutual friend. We plan to relax at the beach in the morning and go to a concert later in the day. This is exactly what we do and we have a great time, except for one thing. The entire day my bestie is texting her boyfriend nonstop every minute or so and the boyfriend is several states away from us on vacation. I was and am very upset that one of the few days we get to spend time together she is on her phone texting the entire day and lately she has been very distant. She rarely responds to my texts and anytime I want to hangout she says she's busy. I feel like we are growing apart. So what should I do? Should I tell her how I feel? Should I tell her how upset I was that day at the beach? I don't want to lose my best friend.
   – Anonymous, Sophomore   
To Anonymous –
You should definitely tell your bestie about how upset you were that day on the beach and how you feel you two are growing apart. It's not healthy to keep feelings bottled up and I am positive that your bestie will be happy that you were honest with her. That was one of the few days you can spend time with her and it wasn't right that she was on her phone the whole day but don't confront her or let accusations fly, just talk to her.
 Most likely, she will not have even realized that her texting on her phone was bothering you and/or she will become defensive. If she starts to defend herself, listen to her and try to understand her point of view. Then, all you can do is make your feelings clear and try to understand hers.
  As for you two growing apart, explain why you feel this way to her and ask if she feels similar. But don't worry; this girl is your Best Friend. Obviously you two care about each other very much for your friendship to have lasted since first grade. This is a barrier you will be able to overcome.
 Finally, you should try to plan more time to spend together, I understand you're both in high school now and your schedules are going to be very hectic and probably will clash. But being able to see your bestie in person a few more times a year will help you two to reconnect and get your friendship back. Just remember that a long distance friendship is going to take more effort to maintain and most importantly, no friendship is beyond repair. Good Luck!