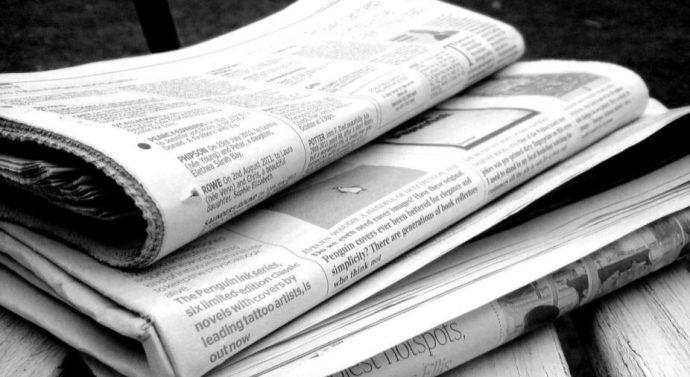 by Jeremy Mosesson, staff reporter
With the rise of technology, will newspapers still be a thriving medium for news? The industry has been trying to evolve to a technologically savvy generation, but cannot halt the rapid decline.
Social medias, such as Instagram, Twitter, Facebook keep people informed. Although newspapers are cheap and affordable, how long will it take until people give them up as a whole and rely on a faster medium?
In recent years, due to the ability to access information fast through search engines such as Google, multiple newspaper companies had to close down because there was no one investing in them. For example, in February of 2009, The Rocky Mountain News closed and The Seattle Post-Intelligencer was reduced to a bare-bones Internet operation. Now that anyone can access news, there is no one to withhold it and control the output, making the newspaper even more futile.
Before the internet, companies and local businesses advertised themselves through newspapers, and now that the internet exists, anyone can have a voice and showcase their businesses through media, such as Craigslist. According to article, "How Did Newspapers Get In This Pickle?", Craigslist obliterated the advertising departments of newspaper with its free advertisements. Research has shown that Craigslist alone has cost the newspaper industry $5 billion in advertisements.
Even schools around the U.S. have begun to refine their journalism courses and use the internet as a distribution medium.
Recently, newspapers have been struggling. Applications at the nation's journalism schools are increasing. The Columbia Journalism School reports a 44%  leap from 2008, and the Annenberg School for Communication reports a 20% raise. "Technology is destroying newspaper, it is so much easier to go on Instagram or Facebook for news," senior Bella Lassus said.
But, the opposing party would beg to differ.
Many would argue newspapers are simple yet effective, that their accessibility makes them popular.
"Technology maybe a thriving medium but newspapers will always have a place in the world, their price and simplicity makes them more attractive," senior Jonathan Baffo said.
Newspapers are an easy read for morning walks to work or rides on the train/bus, while not everyone can afford a phone. Even though newspapers don't report on the news as fast, they are easier to access and more affordable for a wider reach of people.
As the newspaper industry continues to decline and the internet continues to escalate as a thriving news medium. A generation full of technologically handicapped millennials may witness the slow and painful death of the newspaper industry.