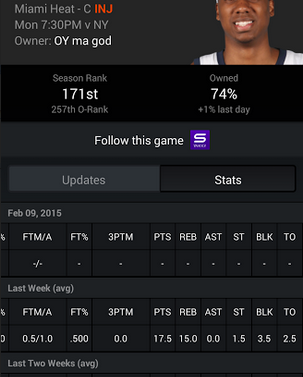 by Jordan Fickling, sports editor 

Week 12 in Fantasy Basketball is over and done with, and many owners look to have a great Week 13 for their respective teams.

For those who were struggling with their teams due to injuries or lack of output, a player that was added to several yahoo fantasy leagues is the Center for the Miami Heat, Hassan Whiteside.
Whiteside has been added to several leagues due to his consistency as a Center with his output in points, rebounds, and blocks.
"I picked up Whiteside because he was dominant in his rebounds and blocks which captured my interest.  I already had Anthony Davis, a player that is very adept in rebounds and blocks and I already won in these categories. Whiteside was used as a backup just in case Davis got injured,"  sophomore Mohammed Shah said.
Whiteside had an incredible game against the Los Angeles Clippers at the start of Week 12, accumulating career highs in points (23), and rebounds (16). He also added two steals and blocks respectively.
What was great about this particular game, was that Whiteside came off of the bench and with this monster game he was easily promoted to the starting role. Averaging 12 points, eight rebounds and 3 blocks for Week 12, Whiteside proved to be a dependable asset for Fantasy Owners that picked him up.
"Whiteside's stats are exactly why I picked him up. He showed constant consistency and efficiency for most of the games he played,"Shah said.
Whiteside may have issues with fouling, but it is still early in the season and owners are optimistic in his progression.
Miami greatly benefitted from the emergence of Whiteside as his efficient production is one of the reasons why the Heat is currently seventh seed in the Eastern Conference. If he can provide the Heat with games such as the one against Los Angeles, the more minutes he will be rewarded.
Now that Week 13 has finally commenced, many Fantasy owners wonder if Whiteside can keep up his production. There are several other players that had great outings last week and hopefully they will end up as a must start player and a priority to acquire.