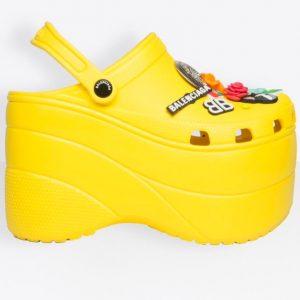 By Junior Editor, Lauren Leto
The more advanced we become, the more 'farty' our style tends to be. Luxury brands as grand as Balenciaga, Prada, Louis Vuitton, Gucci, and more seem to be a part of this new revolution of unique footwear. Recently they have released their 'toe shoe'. They created an abstract styled heel where every toe except the big toe is covered (as shown in the picture).
This was considered
" the complete opposite of 'beauty" Rebel Royale said, the creator of Instagram account @crimesagainstshoemanity.
Furthermore
"Classically beautiful things are now worn by people like Ivanka Trump which now taints them"Royale announced.
Indicating how society tends to be more daring than classy people like Ivanka. It's as if we are in an ugly shoe race. These brands are creating shoes of all styles from sneakers to heels with bad taste. All at the same time! As if it is something to die for. Gucci recently released a form of flats that have buckles up to the knee. Completely horrendous! Prada released their colorful, patchy, bulky sneakers that look like something you'd see in your dreams.The worst part is how expensive these shoes are.
"Ew! What's wrong with them?" said 11th grader Dimitra Angelopoulos.
The more styles that hit the runway the more we say "ugly!". It's a unique beauty to some, but to others it's an absolute NO to spending money on!
"I think it's kinda cool but I would never wear them", said 11th grader Sonia Guglietta.
Aside from these heels, Balenciaga has created an abundant amount of abstract styled shoes. Leaving the world mesmerized by what may be our fashion's future.
"Blame narcissism", says Andrea Cheng writer for Fashionista.
She goes on to retell her experience saying, "I was casually strolling through SoHo one weekend when I passed a man — a tourist, I presume — gesturing obnoxiously at the Prada flagship display window as he said, in a voice dripping with a mix of horror and disdain, "This, all of this — hideous".
Other companies like Prada also have been releasing  gaudy fashion statements. Every luxury brand is transforming mainly due to the "narcissistic" society we are growing up with. Many people have gained such a confidence that has overcome the basic tee and jeans.