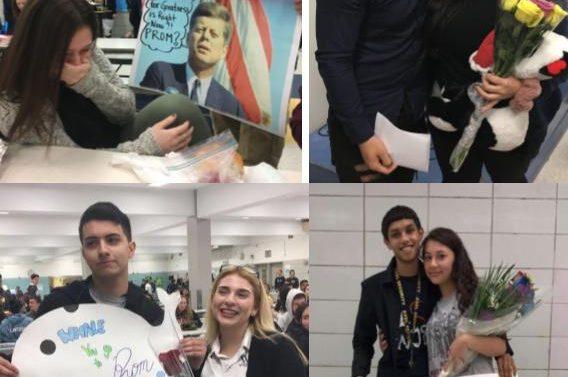 by Erika Donis, staff reporter
With prom being a few months away, promposal season has officially started, and seniors are being surprised in a lot of creative ways. Some include puns and others are personalized for a special someone.
Making a big announcement in front of the whole grade is more desirable than asking someone to be a prom date over text. To set off the chain of promposals, senior Jonathan Baffo surprised Natasha Silva by walking into class with flowers and a softball that had "Prom?" written on the front.
Another senior, Jordan Kose, shared his experience on preparing his promposal to Caitlyn Reid. He wanted to incorporate JFK in the sign that would have "Prom?" written with former president John F. Kennedy's slogan, since Caitlyn is infatuated with all aspects of President Kennedy.
"I worked with Ms. Papazoglou for weeks to perfect how I was going to ask her [Caitlyn Reid] to prom, I wanted to make it memorable," senior Jordan Kose expressed.
Making the promposal special to a specific person is important because it creates a memory they will remember forever.
"I wasn't expecting it at all. I expected something completely different as well, he really caught me off guard. I felt so overwhelmed and beyond ecstatic," senior Caitlyn Reid said about her promposal.
Seniors are making sure to go above and beyond to make their significant others feel extra special, and not ask in a boring manner.
From the point of view of the student asking their date to prom, it takes a lot of courage to plan this and ask in front of a big crowd.
"We had to go through a lot of effort to get her [Parris Cherry] to be there, and on top of that we had to get people to help do certain things in order for it to go smoothly," senior Adrianna Ramku expressed about her preparing to ask her girlfriend to prom.
New promposals are still being added to the growing pile almost every week. Each one is presented in a different way to make someone feel special.