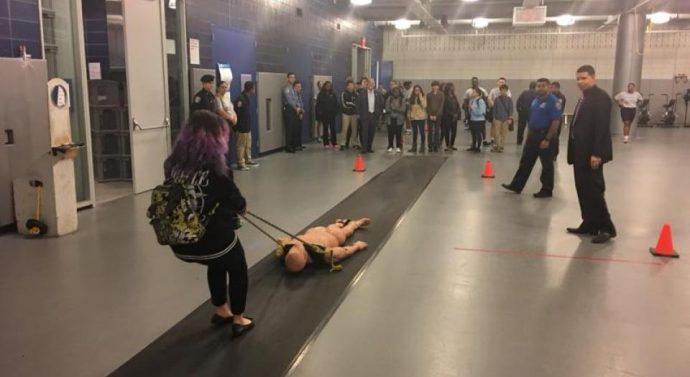 by Esther Animalu, staff reporter
High school junior ambassadors, arrived at the New York City Police Academy in order to experience a first-hand account regarding, the background and profession of what it takes to become a NYPD police officer.  
In addition, ambassadors from neighboring schools, Bayside High School, Holy Cross and St. Agnes, accompanied the students during the trip. City councilmen, Paul Vallone, as well as his community liaison, Mike Yon, sponsored and facilitated the event. Essentially, Vallone wanted the ambassadors to be exposed to different occupations, and learn about the criterias and sacrifices that police officers endure in an effort to keep the streets safe.
Ambassadors were transported to and from the academy in NYPD vans equipped with buzzing sirens, cushioned seats, and other types of apparatuses.
"My favorite part about the tour was getting a sense of what the NYPD is all about. I live in College Point, so when the facility was starting to be built, it was a big deal in my neighborhood. I think the tour and workshop was very beneficial because we were able to meet some police officers and not only see, but experience, what their trainings are like," junior Amber Pasch said.
Students were exposed to the intensive training unit, in which the cadets, prospective officers and many other police officials constantly utilize, in order to prepare for real life situations and encounters. Ambassadors were able to undergo an obstacle course that officers use to train and test for stamina, timeliness, endurance, and strength.
During the tour, ambassadors were lectured about the historical background of the NYPD police unit as well as the creation of the new academy, which is still under construction. Despite that, it has been highly upgraded with advanced technological equipment, intricate architecture, an immense gym, a pool, and other numerous units.
Moreover, the New York City Police Academy showcased their life-size models of a bank, courtroom, apartment, subway station, corner store, and other public landmarks. They emphasized that these replicas are used for training. Scenarios are often staged by real-world events that an officer may encounter. Then, the trainee must demonstrate how he or she would execute the matter lawfully in response to the police training.
Throughout the tour, ambassadors were able to ask questions to licensed police officers, as well as talk with cadets and explorers who are active within a program under the NYPD.
A growing concern, regarding the friction between minorities and police officers, was addressed during the event.
CNN contributor, LZ Granderson, stated, "I don't trust cops and I don't know many black people who do… When you run out to buy some allergy medication and upon returning home, find yourself surrounded by four squad cars with flashing lights and all you can think about is how not to get shot, you learn not to trust cops."
In response to the growing epidemic pertaining to the division between black lives and NYPD officers, city councilman, Vallone, left a remark.
"We need to establish trust within our communities and be more proactive at reaching and connecting with different cultures and ethnic groups. Creating events, such as the New York City Police Academy Tour, exposes young individuals and humanizes the aspects behind the police department. If more youths are able to attend programs like this, in order to see what police officers stand for and lawfully support, it will help offer a common ground between all social groups due to attending outreach events such as the police academy," city councilman Paul Vallone said.
Questions were also raised about whether NYPD officers should start wearing body cams.
"I believe it's a great idea, however we don't have the capacity to store all that data yet. And more questions come into play such as, when we can delete the videos? How can we protect the memory within the cam? How good is the video quality? There are a lot of factors that we need to be aware of, before body cams can actually be implemented," Vallone said.
Furthermore, students were shown a monitor that is routinely updated. It displays the police officers who passed away in the line of duty across the country. The reports of the fallen help spread awareness to visitors, staff, and other faculty members. Students were informed about paying homage and remembering the risks that officers undergo in order to protect the community. Every deceased police officer is mentioned, regardless of their rank and status.
Ultimately, the New York City Police Academy enabled ambassadors from diverse backgrounds to learn about the fundamentals and criteria of policing the streets and how to justly enforce the law. All in all, the tour concocted a new outlook and perspective on what it really means to wear the NYPD uniform.