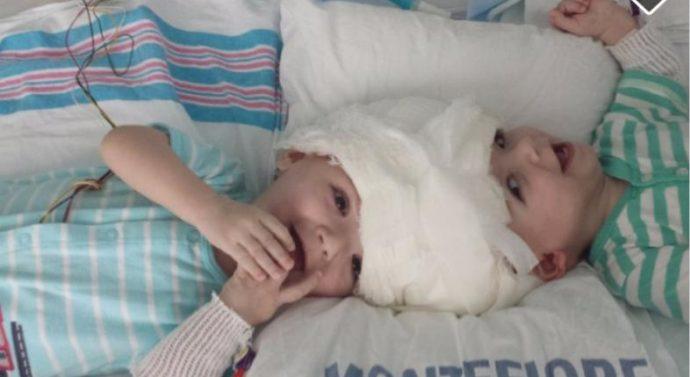 by Kay Kim, editor in chief
13-month-old twins, Jadon and Anias McDonald, born conjoined at the head, successfully underwent a separation surgery that lasted 16 hours.
Nicole and Christian McDonald, parents of the twins, moved from southern Illinois to New York to be closer to the surgeon, Dr. James Goodrich. He is reputed as the leading expert in craniopagus surgery.
Nicole McDonald, mother of the twins, described Dr. Goodrich as a "God-send from the beginning" on her Facebook post. He has provided details from his previous surgeries and "always has the right answers".
At 17 weeks pregnant, Nicole found out that she had twins through her routine ultrasound. Approximately an hour later, she was called back to have another ultrasound done. She was then told that she was pregnant with craniopagus twins.
Twins joined at the head are called craniopagus twins. They are extremely rare, occurring in 1 in every 2.5 million births. Operating on craniopagus twins has risks, such as death or deficit of one or both of the twins. However, not operating also carries a risk because 80% of twins that are not separated die of medical complication by the age of two.
Nicole and Christian had to make a decision for their boys. Despite their fear and nervousness, they decided to accept the result. They believed there was a purpose. Through an interview with CNN and on the Gofundme page, she stated that she and her husband put their trust in God.
"[If I had craniopagus twins] I would feel proud. I wouldn't feel ashamed or embarrassed. I wouldn't make them feel isolated. I would give them the same opportunities – sports, makeover," eighth grade student Julia Ragoussis said.
Jadon and Anias twins share more than 1.5 centimeters of brain tissue.
Over the past year, the twins have gone under three operations. Each procedure has separated their brains more and more. The fourth stage, held on October 14th at the Children's Hospital at Montefiore Medical Center in the Bronx, was the final surgery that separated them.
Dr. Goodrich used 3-D models of the twins' heads as a blueprint for the surgery. In order to successfully operate through all the bones and brains that the twins share, the twins must be rotated throughout the surgery.
At 2:11 AM, Jadon and Anias were finally placed on two separate operation tables. The separation alone took 16 hours. The surgery to rebuild their skulls took additional time.
Jadon was the first of the boys to be reunited with his parents at approximately 7:40 AM. Then, at approximately 1 PM, Anias was brought to his parents, which celebrated the family's first reunion after the final operation.
After the surgery, Nicole shared an update on her Facebook. She thanked the heroes involved in the process for their hospitality and support.
Currently, the boys are recovering from the final operation. Jadon grabbed at his breathing tube and smiled at his parents.
Anias is progressing slower than Jadon. Before the operation, Anias had struggled with breathing, eating, vision, and hearing, and seizure. He continues to have seizures, which is being treated for. Nicole, who was a pediatric physical therapist, is constantly on the lookout for Anias. By massaging his legs, Nicole helps Anias's heartbeat drop from 140 to a steady 90.
"It is all patience with Anias. There is no manual on this, so we just wait," Nicole said, as stated by CNN.