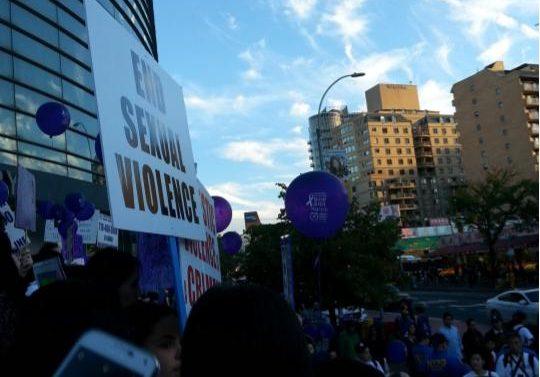 by Kay Kim, editor in chief
On Friday, Korean American Family Service Center (KAFSC) voiced the agony of the voiceless domestic violence and sexual assault victims through its 19th annual Silent March.
One in every four women and one in every seven men will experience dating or domestic abuse from their partners in their lifetimes.
Abuse does not correlate only with physical violence. There are emotional, financial, psychological and other varied abuses. Some of the tactics include manipulation, isolation, playing mind games, and stupefying the victim of financial incomes.
Silent March is marched from the 109th Precinct to Queens Public Library at Flushing in silence. At the library, KAFSC board members and political figures, such as Grace Meng and Peter Koo, spoke to show support for the victims and elucidate the eminent cases of domestic violence in the community.
Purpose for the silence is to represent the struggles of domestic violence and sexual assault victims, who withhold their pain.
Victims may be silenced for various reasons. There may be a lack support from peers and families. They may be financially or socially dependent on their partners. In some cases, they may even be threatened by their partners from seeking the help that they need.
Among the homeless, half of them are women and children, who are fleeing from abusive households.
KAFSC attracted a great crowd through the march as they portrayed these messages.
"We successfully kept many people informed with our march and brought a lot of attention. It [the march] keeps the community aware of this issue and keeps them informed," YCPT (KAFSC's branch organization) president Stella Yoo said.