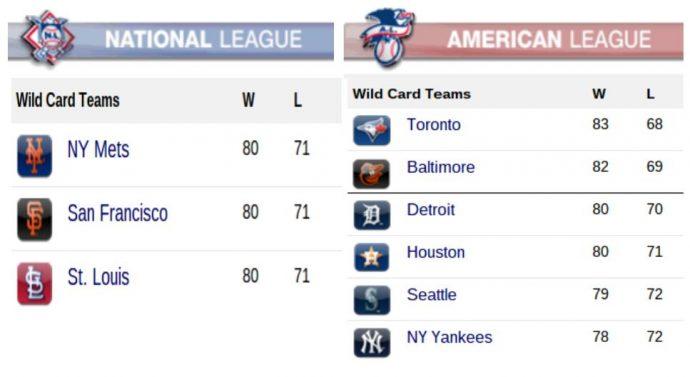 by Prabhdeep Dhami, sports editor
As the MLB (Major League Baseball)
season winds down, eight teams look to secure a wild card spot.
The two wild card spots in the National League (NL) is down to a three team race between the San Francisco Giants, New York Mets and the St. Louis Cardinals. The American League (AL) has a tighter race with five teams looking to scratch out a spot. The Baltimore Orioles, Toronto Blue Jays, Detroit Tigers,  New York Yankees, and Seattle Mariners are all in a midst of the race.
In the NL, the Mets (80-72), Cardinals (80-72) and Giants (80-72) are all tied for first place. If the season were to finish in a three-way tie, the most likely scenario would be the Mets and Cardinals playing a game in St. Louis on Oct. 3rd, the loser of that game would travel to San Francisco for a game on Oct. 4th. The winner of the Oct. 3rd game would then host the winner of the Oct. 4th game on Oct. 5th In the NL wild card game.     
In the AL, the Blue Jays (83-69) lead the Orioles (82-70) by a game for first place with Detroit, Houston, Seattle and New York down 1, 1, 2, and 2.5 games down, respectively.
" I feel like the Mets and Giants are going to face each other because their schedule is overall easier than the Cardinals and have a better team to win games down the stretch. On the other hand, the Orioles and Blue jays will win the two wild card spots in the AL because they are up 2.5 games and their rosters overall are proven to come up big down the home stretch," senior Ronald Baretela said.
Fans can tune in October 4th to watch the American League game on TBS, while the the National League game will be on October 5th on ESPN.