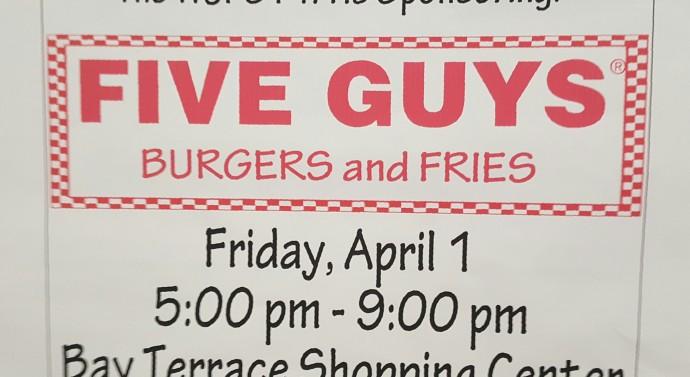 by Alicia Massey, staff reporter  
PTA is having a fundraiser at Five Guys in the Bay Terrace shopping center. It will be on Friday, April 1st from 5 P.M. to 9 P.M.
"I love Five Guys because they have the best burgers ever and their fries are out of this world," junior Erika Donis said.
PTA chose to do a fundraiser at Five Guys because they have been very supportive in helping the school raise money. Five Guys is a fast food restaurant that are known for their burgers and fries. They also offer veggie sandwiches and different types of hot dogs. While waiting for the food to be prepared, customers can snack on the free peanuts offered.
"I'm excited to go to the fundraiser because I get to eat good food and support WJPS. Those are my two favorite things," senior Alyssa Striano said.
On April 1st, a portion of each purchase made that night between 5 P.M. and 9 P.M. will be donated to the school. This fundraiser has become one the school's traditions.
"Our PTA is always trying to think of new ideas to raise money, so that some of the events that we've had in the past, that have become our school's traditions, do not go away due to under funding. Five guys is a great place to not only raise money, but to get our school community together outside of school," Angelina Voyias PTA Executive Board said.